COMPOSER'S NOTE:
For many years I have enjoyed composing for voices and piano. Not being a trained organist, when offered the opportunity for a sabbatical residency at Canterbury Cathedral in 2016, I prepared by taking several months of organ lessons. In the process of getting a better understanding of the instrument's extraordinarily expressive range, I was inspired to compose Magnificat for Canterbury's treble choristers.
In the Anglican choral tradition, settings of the Magnificat and Nunc Dimittis are sung at Evensong on a daily basis. Although the titles are in Latin, most of the evensong repertoire is sung in English.
The Magnificat text, also called "The Song of Mary," comes from the Gospel of Luke. While some Christmas carol texts describe Mary as gentle and submissive, the words of the Magnificat reveal a vision of flipping the status quo on its head. Sounds a bit like revolutionary talk. In fact, in Nicaragua's revolution of the 1960s–70s, the Magnificat was a favorite prayer among many peasants.
Whether the words are interpreted as a revolution of the soul or an anthem of social justice, Mary's song still reverberates with a prophetic message.
Peter Robb
Read more
Read less
Composed for the treble choristers of Canterbury Cathedral and fully reflective of a high liturgical quality in writing for both voices and organ. An impressive church or concert piece, and reasonable for young singers with good training.
PROJECT : ENCORE NEWS
Quarterly Endorsements
ACDA Choral Journal, December 2020
My soul doth magnify the Lord.
And my spirit hath rejoiced in God my Savior.
For he hath regarded the lowliness of his handmaiden.
For behold, from henceforth
all generations shall call me blessed.
For he that is mighty hath magnified me and holy is his Name.
And his mercy is on them that fear him throughout all generations.
He hath shewed strength with his arm;
He hath scattered the proud in the imagination of their hearts.
He hath put down the mighty from their seat
and hath exalted the humble and meek.
He hath filled the hungry with good things
and the rich he hath sent empty away.
He remembering his mercy hath holpen his servant Israel
as he promised to our forefathers,
Abraham and his seed for ever.
Read more
Read less
You might also like
Missa Brevis No. 2
1. Kyrie & Sanctus
SSA 7'40" Level:M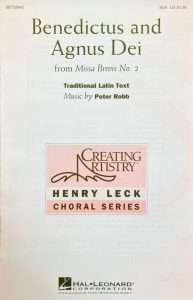 Missa Brevis No. 2
2. Benedictus & Agnus Dei
SSA 5'50" Level:M
Et exultavit spiritus meus
Unison 2'25" Level:M